Happy New Year my fellow beer chicks and geeks! I know that I've been remiss in my blogging lately. I've been around the country drinking beer and keeping notes. And I thought that I could round it all up in a nice neat little list of my Favorite Beer Things of 2008. So without further ado, here they are!
Favorite Beer Bar
Spuyten Duyvil
359 Metropolitan Ave.
Williamsburg, Brooklyn, NY
718.963.4140
http://www.spuytenduyvilnyc.com/
I've been to a lot of great beer bars this year. Father's Office and The Daily Pint are like my second and third homes in LA. The Hopleaf and The Maproom in Chicago get mad props from me. The Brickskeller and Birreria Paradiso in DC, and The Toronado in San Francisco are amazing. But the place that captured my heart, mind, body and soul was a tiny little hole in the wall bar in Brooklyn. With nary a sign to mark this diamond, and red bars covering the windows, the place was so nondescript that I asked "This is it?" when we arrived. From the decor (which is either all a happy accident or designed by some kind of genius in understated hipness) to the vibe, to the knowledge of the staff, to the selection of beers, to the music on the jukebox, to the fellow patrons, this bar pretty much K'd A. I couldn't tell if it was the maps and anatomical drawings on the walls, the apple on top of the Jesus' bust behind the bar, the Spiegelau glassware, the red tin ceiling, or our skull capped bartender; but the beer tasted better to me here than in any other bar this year!
Favorite Beer Shop

City Beer Store & Tasting Bar
1168 Folsom St
Suite 101
San Francisco, CA, 94103
415.503.1033
http://www.citybeerstore.com/
I don't know the exact statistics on this but if I had to guess I would say that there are well over 30 trillion wine stores in this country. But what we are truly lacking are retail outlets that concentrate on beer and treat it with the respect and reverence that great beer deserves. This is the niche that Craig and Beth over at City Beer & Tasting Bar decided to fill for San Francisco beer-o-philes. Not only is this place a totally neighborhoody, easy going place. But you can drink beer tasters while you shop their massive list. You can also mix and match six packs, which would keep me coming back forever if I lived there. Perhaps they say it best on their website. "Our hope is for beer to be treated with the same respect as a fine wine or fine bourbon. Through continued education and tasting of many brews we will create a beer force to be reckoned with!" they say. If you're goin' to San Francisco, make sure to check out this gem of a beer shop. Cheers to you City Beer!
Favorite Beer Consumed in 2008
Thiriez XXtra
Dry-hopped Golden Farmhouse Ale
Esquelbecq, France
http://brasseriethiriez.ifrance.com/
4.5% abv
I'll admit, it was getting late. And I'll admit that I had already tasted quite a few beers. I'll also admit that I was in my new favorite bar of 2008 (see above), but do not let any of the above negate the deliciousness of the best beer I drank in 2008, Thiriez XXtra. Here's exactly what I wrote in my notes when I tasted it: "You know that thing you want Saison to do sometimes...to finish up better, to dry up? Well, this one does it perfectly." Rich and hoppy, I learned later that this beer in France is called "Les Freres de la Biere" which means "The Friends (or brothers) of Beer," and it turns out that the beer is a collaboration between brewers in England, France and Belgium using English hops, French malts and Belgian yeast. The end result is a beer that is amazingly sessionable, but still has the earthy, spicy character of a saison. From what I've read, this beer is much more like a throw back to the "original hoppy saisons that were created by Belgian farmers in earlier times." A great experience of restraint balanced with flavor. Simply delicious.
Favorite Beer Chick
Nathalie Balandran
Pacific Gravity Ladies Homebrewing Club
4358 1/2 Sepulveda Blvd
Culver City, CA 90230
310.397.3453
Culver City, CA
http://www.pacificgravity.com/
Nathalie is pretty much a bad ass. Not only does she possess a precise palate and a wealth of information on beer and brewing, but she uses words like "
diacetyl
" in common conversation. And that makes me happy. Nathalie hosts a homebrewing class for ladies in Culver City where she teaches women (me included) how to make brews like "Ebony & Ivory Vanilla Porter" and "Peppermint Stout" and un-named beers made with exotic ingredients like candied ginger. This year she was featured in the Los Angeles Times and on a local television newscast for her homebrewing teaching efforts. Click
here
to read the whole article by Jenn Garbee called "Home Beer Brewing Calls to a New Generation -- And to Women." Click
here
to contact Nathalie about attending one of her homebrewing seminars.
Favorite Beer Flavoring
Coconut
I like to consider myself a purist. Obviously, this is not true, but like I said, I like to
consider
myself a purist. That being said, I had to warm up to the idea of "flavorings" being added to beer. Hell, its been done for thousands of years, but sometimes adding flavorings to make beers more palatable to women ends up "dumbing down" the beer in a way that I think is patronizing. This is not the flavoring that I'm talking about. Innovative brewers around the world are experimenting with adding spices, herbs and other ingredients like chocolate and coffee to make truly unique beers. Craftsman adds white sage to it's awesome Triple White Sage, Elysian Brewing Company adds Jasmine to its Jasmine IPA, my favorite flavor combination this year, however, has been coconut. Especially when added to dark beers such as porters and stouts, coconut adds something delightful to the mix. Of course it has to be done right and not with a heavy hand. Some of my favorites of this style are Maui Brewing Company's CoConut Porter, Klin Kokos from Nogne Brewery in Norway and Coconut Milk Stout at Rock Bottom.
Favorite Beer Accoutrement Establishment
Bedford Cheese Shop
229 Bedford Avenue
Brooklyn, NY 11211
888.484.3243 / 718.599.7588
http://www.bedfordcheeseshop.com/
Why am I writing about a cheese shop? Because how else are you going to experience the perfect pairing of a strong English Barleywine with a Stilton Blue Cheese? How are you going to taste what Maredsous 10 and Roomano Gouda do to each other? You can't, unless you go to what I like to call a "Beer Accoutrement Establishment" like the Bedford Cheese Shop. This place is absolutely amazing. They are an "old-fashioned cheese shop dedicated to providing you the finest quality cheese from around the world." Their staff is as knowledgeable about cheese as brewmasters are about beer. You tell them the flavor profile of your beer and the cheesemongers will give you a stinky cheese that will not only enhance your beer, it will brighten your life. Make sure to ask for Amy or Allison, two cheese queens who also know a hell of a lot about great beer. Another cool thing? Click
here
for a cheese "subscription" and get 3 months to a year of awesome stinky cheese delivered to your door.
Favorite Seasonal Ale
Jolly Pumpkin Artisan Ales / Nogne O / Stone Brewing Company Special Holiday Ale
Winter Warmer
9% abv.
This Winter Seasonal Beer is the lovechild of three great craft breweries hailing from Dexter, Michigan, Norway, and Escondido, California. Three of my favorite breweries got together to make a Special Holiday Ale: Jolly Pumpkin which usually focuses on sour beers, Nogne which focuses on real ales and Stone Brewing Company which is known for its extreme beers. They got creative and made this beer with chestnuts, juniper berry, white sage and caraway seed. At 9% abv, you'd think you'd have a heat bomb, but this beer is so nuanced and balanced with fruity, smokey, spicy, toasty notes, but with a nice dry finish that is usually missing in sometimes cloying winter warmers. I was able to get my hands on ONE bottle of this as a gift from fellow beer chick Hallie Beaune! Thanks Hallie. Click
here
for the whole story behind the collaboration.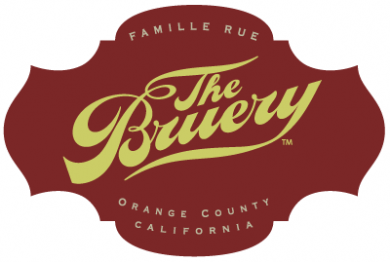 Favorite New Brewery
The Bruery
715 Dunn Way
Placentia, CA 92870
http://www.thebruery.com/
Spelled "bRUEry" because it was founded by family members Patrick, Rachel and Michael Rue, The Bruery is using something that I value highly: creativity! Sometimes when you do crazy things with beer, it can fail miserably, but The Bruery is experimenting with ingredients and making them work in wonderful ways. They are making a Saison with Rye, a Yam and Maple beer instead of a Pumpkin Ale, a Triple flavored with Thai Basil, a "Black" White Ale, a White Ale made with Lavender. Patrick and his Head Brewer Tyler King make innovative, original and outside the bottle kind of beers. And it doesn't hurt that they are like the nicest people alive. The entire package makes it my favorite new brewery of 2008. If you can't find any Bruery beers near you, it might be time for a weekend road trip to the OC. The Bruery has a tasting room open on Fridays between 2-8pm and Saturdays between 12-6pm.
Favorite Restaurant Beer List

(That I Didn't Write)
Gramercy Tavern
Flatiron Neighborhood
42 East 20th Street
New York, NY 10003
212.477.0777
http://www.gramercytavern.com/
It ain't cheap, but I make it a point to go to Gramercy Tavern every time I'm in New York City. The environment is so warm and cuddly and the service so friendly and inviting, that it doesn't seem like one of NYC's best restaurants. There's none of the tension or stuffiness, it feels like you're at your parents friends' dinner party. But beyond the wonderful food and fantastic wine list is one of the best beer lists that I've ever seen in a restaurant. I'm talking Ayinger Celebrator, Semi-dry Organic Apple Cider from Farnum Hill in New Hampshire, Westmalle Tripel and Rochefort 6 just to name a few. But what makes Gramercy Tavern's beer list especially cool is their "Vintage Beer & Cider" list, where they offer collected beers. Didn't think you could do that? Well you definitely can. They have Anchor Christmas Ale from 1998 and 2001, Rogue Old Crustacean Barleywine from 1998, '99 and '00. Schneider Aventinus 2002, Cantillon Gueuze Kriek and Framboise from '05. They have amazing Famille Dupont ciders. Also, thanks to a conversation with the manager in the know, GT has some special beers that are not on the list. I was able to try some fabulous and serious warmers (read high alcohol content) exclusively brewed by Brooklyn Brewery's Garret Oliver for Gramercy Tavern served in crystal appertif glasses. Amazing and inspiring. I can't wait to go back.
Happy Holidays to all my fellow beer fans. May the new year bring hope, love and happiness - and lots of beer - to you and yours.
Written by The Beer Chick, December 29, 2008
Get Beer for Chick's Feed